Pattern: Floral pattern like from the old days
The pattern was made of hand-painted watercolors of flowers.

The colors of this pattern are toned down and calm.

If the material with this pattern will be used for decorative purposes, it will work well both in a minimalist and a varied color space.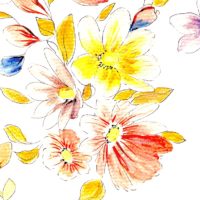 Application:
Excellent as a material for bedding, curtains for the bedroom –

has a joyful and at the same time subdued pattern.
 

Materials on which the pattern can be printed:



KRETON, 100% cotton
SINGLE JERSEY, cotton 92%, lycra 8%
LINER DRESS, 90% cotton, 10% polyester
SATIN, 100% cotton
WOAL, 100% cotton
GABARDIN, cotton 100%
CANVAS a'la LEN, 100% cotton
You do not need to order the entire subway material, you can order, for example, the same sample 20 cm x 20 cm.
Order the material
with this pattern
or learn more details