Pattern:

Pink cascade of flowers



The pattern was made of a composition of hand-painted pink flowers – hence pink is the dominant color.

It will be a fashionable complement and will enliven the color-loving calm decor.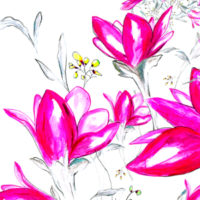 Application:
Decorative material: curtains, pillow cases, interior decoration.
Materials on which the pattern can be printed:



KRETON, 100% cotton
SINGLE JERSEY, cotton 92%, lycra 8%
LINER DRESS, 90% cotton, 10% polyester
SATIN, 100% cotton
WOAL, 100% cotton
GABARDIN, cotton 100%
CANVAS a'la LEN, 100% cotton
You do not need to order the entire subway material, you can order, for example, the same sample 20 cm x 20 cm.
Order the material
with this pattern
or learn more details